Information about tours and entrance fee see here.
The museum acquired this folk architecture monument in 1982. After several years of complex reconstruction works, it was opened on 31 May 1986. Since that date it has housed the standing exhibition called The Farmhouse and Farmstead.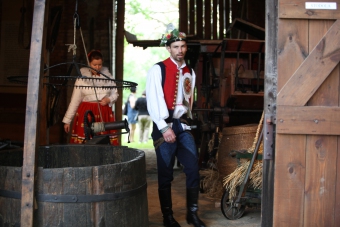 Currently, it is the last typical building with a storeyed chamber, smoke kitchen, and thatched roof, as used to be built in Moravian Slovakia until the turn of the 20th century. Located in its original environment, this last existing specimen of the local folk dwelling provides insights into now-extinct way of life of the rural population in Moravian Slovakia and depicts feast-day and everyday activities associated with the operation of a farm. The visitors can learn about everyday life of an old village and about the archaic agrarian culture of Vlčnov, which is inextricably linked to the yearly cycle of customs, including the famous Ride of the Kings.
The farmhouse exhibition includes the full inventory of a rural sitting room (the main residential part of the house), including folk costumes and their accessories, hall (entrance to the house), chamber, and smoke kitchen (scullery). In the adjacent farm buildings (a stable, stalls, shed, and barn), which are part of the farmstead, house small farming tools, agricultural machinery, blacksmith products and instruments, harnesses and artefacts related to livestock and tillage. A small beekeeping exhibition can be found in a barnyard shelter.
The exhibited artefacts come mostly from ethnographic collections of the Museum, some of them were donated by the local citizens of Vlčnov, and a very tiny fraction comes come from the estate of the Ryšavý family, the original owners of the farm. The exhibition was designed by PhDr. Pavel Popelka, CSc., the Museum ethnographer, from whose initiative the entire building was partially reconstructed in 1993. In 2004, the gateway was completed according to historical photographs, thatched roofing was replaced, and roof truss reconstructed.